Our Services
Mobile Development
Partner with Lionwood.software, a mobile development and consulting company, to create an app that stands out from the competition and boosts your business growth. Using our extensive expertise and know-how, we will not only develop a mobile app quickly and on budget but also help you maximize your return on investment.
Whether you have an idea for an iOS, Android, or cross-platform application, our full-cycle mobile app development service company is here to help you implement your project from scratch at the highest level possible
---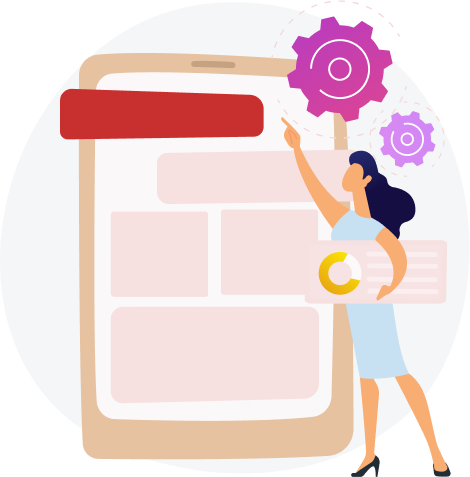 Full-cycle Android app development services
Android mobile development consulting
Full-cycle iOS app development services
iOS mobile development consulting
Full-cycle cross-platform app development Discover (Initial Assessment)
At the initial stage, we study your project idea, collect the requirements, and evaluate the potential success and relevance of the app. Based on your business goals and budget, we start planning the most optimal approach to developing your mobile app.

Define and validate
We validate your product idea and define the required scope of the app's functionality in order to gather and allocate resources needed for implementation.

Design and iterate
Our designers build prototypes, wireframes, user flows, navigation, mockups, and the general style of the future app, depending on the client's requirements and users' expectations.

Develop
Based on the technical requirements, we start bringing your vision to reality through full-cycle mobile application development services. Once the UX/UI design phase is finished, we proceed to the back-end and front-end engineering using the best-suited tech stack.

Test
The project undergoes rigorous testing, including manual, automation, and end-to-end testing throughout the entire production flow to ensure the high performance, flawless functionality, and exceptional usability of the delivered mobile app solution.

Deploy
Finally, the app is ready to be published on Google Play and/or the App Store.

Support
After we develop the mobile app, we can assist you in maintaining the software upon your request (for an extra cost), helping implement new features for the future app release and conducting regular optimizations.

Kotlin

Java

Swift

Flutter
Native
vs.
cross-platform
technologies
AR/VR apps

Advanced UI apps

Apps with

OS-level

features

AI-triggered apps with

big data

Heavy apps that can run on desktop

IoT apps

Gaming apps
Advanced

os plugins

with simple logic

GPS-centric apps

Apps with Skia rendering engine

Flexible UI with

high-level widgets

MVP apps
Main essence of

Native

apps
If you want best-in-class apps with exceptional performance, a native application is an ideal solution, providing limitless design, customization, device hardware usage, and integration options.


Main essence of

Cross-platform

apps
If you don't require various integrations, complex animations, and super high performance, cross-platform mobile development is an excellent solution for delivering a flexible app with a wider market reach while reducing development costs.
Lionwood.software
Mobile apps are

Flawless
Our top-notch developers use cutting-edge tools and technologies to create effective, multifunctional, and high-quality solutions. We possess all the necessary skills and knowledge to build a flawless mobile app for you.

Innovative
We stay up to date with the newest technical developments and implement them into our mobile app development process so we can deliver the finest experience and advanced functionality to our clients and their users.

Scalable
We carefully select the program's architecture and execute high-load testing to guarantee that our delivered apps can be upgraded, can manage the ever-growing user base, and can provide the best experience possible.

User-friendly
Creating a precise and clear app interface is critical for launching a convenient and engaging app. We know how to deliver genuinely user-friendly and outstanding design solutions for our clients' apps.

The

leading web development

service company

89

successfully launched startups

View on

75% of our talent are

Middle and Senior specialists

Strong

knowledge of English
Contact us
To find a perfect solution